Posted by Crystal
Ok, I understand that this is a blog...and, therefore, not the printed word.
But, I love the printed word. Books make me so ridiculously happy. For the past several years, I have mostly been reading non-fiction. I enjoy women's memoirs like
The Glass House by Jeanette Walls
and social psychology books like
Stuff: Compulsive Hording and the Meaning of Things by Randy O. Frost and Gail Steketee
.
When electronic reading devices came out a few years ago, I balked. In my mind, nothing can take the place of physical book with pages and a cover and that lovely book scent. There are few things in life as pleasurable as snuggling into a warm bed with a good book and my dog, Yasha.
I promise you that the photo above is not staged. I was reading in bed a couple years ago and Yasha crawled right up and put her snout on my book. Thankfully, my camera was nearby. This picture just makes me feel so warm and fuzzy. I think the golden, hazy lighting helps. ;)
Slowly, but surely, I am building a small collection of craft books. One day, when Flint Handmade has a brick-and-mortar studio/shop, I would love to house a lending library of handcrafting literature.
I would get this charming
Personal Library Kit
and fulfill my fantasies of becoming a librarian. Yes, I am just that much of a nerdy birdie!
I find many bibliophiles among the ranks of my fellow crafters. I think the tactile sensation of handcrafting and of holding a book to read can create the same relaxing sensations, so this makes perfect sense to me.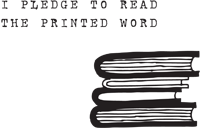 For all of you other book-loving nerdy birdies out there, please visit
Read The Printed Word
and post one of their buttons on your blog, website, etc. My personal favorite is above.
Feel free to stop by the Flint Handmade table at our
Holiday Craft Market
to tell me about your favorite craft books...or just comment below with some great titles I should check out. I need your recommendations to add more books to my collection and I would love to start doing book reviews here on the blog!